Michel Chea, Medical Physicist, Pitié-Salpêtrière Hospital wins Novalis Circle Poster Session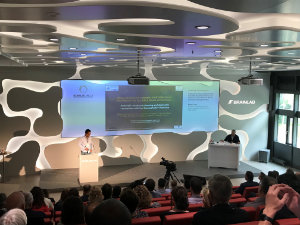 Congratulations to medical physicist Michel Chea and his co-authors from Pitié-Salpêtrière Hospital in Paris who won the Medical Physics poster session at the 8th International Conference of the Novalis Circle for his poster, "Single Isocenter Dynamic Conformational Arc Therapy of Multiple Brain Metastases: Automatic Treatment Planning and Dosimetric Comparison of the Gammaknife® Perfexion™".
This year was the first time a poster session was featured at a Novalis Circle Conference. In total, 19 posters were submitted on various topics relating to spine tumors, brain metastases, medical physics, arteriovenous malformations and new radiosurgery technology.
La Pitié-Salpêtrière is one of now 50 Novalis Radiosurgery programs in France, demonstrating the region's strong interest and investment in precision radiosurgery.
Please visit us at booth #35 at SFRO Meeting in Paris to join us in celebrating our 50th Novalis Radiosurgery Program in France.