Queen Elizabeth II Health Sciences Centre becomes the first Novalis Certified site in Canada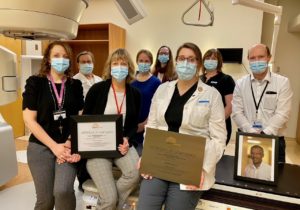 On November 23, 2020, the Stereotactic Radiotherapy and Radiosurgery Program at Queen Elizabeth II Health Sciences Centre in Halifax became the first Novalis Certified site in Canada. Novalis Certified is an accreditation program that promotes the safe and effective delivery of stereotactic radiosurgery (SRS) and stereotactic body radiation therapy (SBRT) treatments. Accreditation is earned after a thorough independent review lead by members of the Novalis Circle Expert Group. Due to the ongoing pandemic, this was also the first center to complete the certification remotely, which added its own challenges to the review, which usually takes place on-site.
Essential to the successful accreditation of Queen Elizabeth II Health Sciences Centre was Chief of Medical Physics, Nova Scotia Health Authority, James Robar, PhD, FCCPM. As a professor of Radiation Oncology at Dalhousie University, he has great interest in image guided radiation therapy and how to improve its efficacy and precision. Carrying out the audit was Novalis Certified Expert, Timothy D. Solberg, PhD, FACR, FACMP, FAAPM, along with Kamil Yenice, PhD, Associate Professor and Chief of Clinical Physics at The University of Chicago Medicine & Biological Sciences. We had a chance to speak with James Robar and Timothy D. Solberg about their experiences during this unprecedented accreditation process.
Can you walk us through the process of getting ready for your Novalis Certified review?
James Robar: Our team of medical physicists, radiation oncologists, radiation therapists, dosimetrists and neurosurgeon were all onboard in this effort. Our head clinical medical physicist was key in drafting the self-study, and the RT team took the lead in ensuring that everything was in place with regard to self-study preparation. In our minds everything was already in place with regard to evidence-based protocols and procedures, but when we actually started taking inventory with a critical eye, we could identify the gaps. The process allowed for improved alignment and formats of our different protocols for SRS, SRT and SBRT, and was also a great opportunity for the whole team to review everything once again. Having been on the other side of the table during reviews, while the Novalis Certification plaque on the wall is nice, I knew the real value would be in the journey.
This was the first time completing a Novalis Certified audit remotely during the pandemic. Can you describe the process from your side as the reviewer?
Timothy D. Solberg: We began by arranging the agenda through email – expressing the need to keep to more or less the standard agenda for an on-site visit. The review itself was facilitated through Zoom; I was prepared to use my Zoom account, but in this case, we used the account from Halifax.
Because there were two reviewers, Kamil and myself, we performed several parts of the review in parallel. We began together with the opening meeting with the full Halifax team; they had approximately 20 people in attendance, including representatives from all specialties. Following that, we were able to tour the department and observe two cases and see James' notes for how that was specifically facilitated. The Halifax team was obviously quite experienced and worked very well together. We were able to observe their processes, including details such as time out procedures. After this, Kamil and I broke into separate groups, with me taking the clinical requirements and Kamil taking the personnel requirements. Kamil finished first and then joined the clinical requirements discussion. After that, I covered the quality management program and Kamil the technology assessment. We finished with a combined wrap up discussion with the entire team.
All in all, the Zoom platform, and Halifax's use of mobile devices for tours and clinical observations worked exceptionally well. I would advise this approach for all remote reviews, though some sites may not be as technologically advanced as Halifax.
Did you feel the review was comprehensive?
JR: Very much so. The deep experience by the review team was obvious from their thoughtful questions and insightful comments, as well as their capacity to have meaningful discussions with the full range of professionals on our stereotactic team. By the time we held our virtual site visit, it was clear that the review team was well acquainted with the details of our program from our submitted self-study. Our department has a strong quality and safety culture, and we were impressed with the emphasis on those aspects. Rather than a review focusing just on methodological detail, the Novalis Certification process also takes into consideration administrative and operation issues such as leadership, accountability, and the connection of this structure to quality. The tenor of the review is extremely constructive, entirely focused on program improvement, rather than just the checking of boxes on an audit form.
Did the remote visit meet all of your expectations?
JR: Initially we were curious about how a 'virtual' site visit might unfold. After many months of preparation by our stereotactic team, we were concerned that we would be able to really demonstrate the competence of our group, the rigour of our methods, and the quality of our resources. Thanks to videoconferencing/live-streaming technology (as well as a whole lot of rehearsing) the virtual visit ended up being a huge success and exceeded our expectations. We were even able to provide the view from the treatment unit console as well as inside the treatment room. This allowed the reviewers to observe our timeout steps, image guidance methods and interaction of all team members during the patient setup and treatment delivery. Granted, it would have been more enjoyable to host our two reviewers onsite, but I don't feel that any aspects of the review process were missed by the virtual approach.
TDS: The remote visit really surpassed all expectations. We were able to communicate clearly, address all questions, and review material as needed by screen sharing through Zoom. Most notably, the tour and clinical case review were unexpected but went exceptionally well. I would say we did not miss any aspects of an actual on-site review. The site was exceptionally well prepared, a testament to their significant knowledge and experience with SRS/SBRT. Their dedication to culture and teamwork was also clearly evident.
What is the importance of Novalis Certified?
TDS: To paraphrase from the Novalis Standard: SRS and SBRT require specialized technology, meticulous procedures, and dedicated personnel to optimize efficacy and safety in all aspects of treatment. The overall goal of the Novalis Certified program is to ensure implementation of SRS and SBRT at a level of quality and safety commensurate with the highest standards of practice. This is facilitated through a robust peer-review process, focusing on procedures and protocols that emphasize continual self-assessment and quality improvement to enhance patient safety.
Also, I think the recent quote from Anja Bayerl from Universitätsklinikum Krems in Austria encapsulates this nicely: "Our main focus is on the best possible care for patients. The review by an external panel of experts confirms that we perform work at the highest level and in compliance with international quality standards."
Learn more about Novalis Certified.