Turku University Hospital Receives Novalis Certification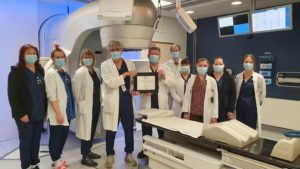 Congratulations to the team at Tyks – VSSHP – Turku University Hospital for becoming Novalis Certified after a successful review of their radiosurgery program by the Novalis Circle Expert Group.
The hospital, located in Turku, Finland, is the first in the Nordic and Baltic regions to receive this certification.
"We are doing what is best for our patients and their relatives by introducing the best available technologies. Our goal is to develop methods that are more accurate than conventional external radiotherapy, including radiosurgery and stereotactic radiotherapy", commented Professor and Chief Physician Heikki Minn.
With this certification, valid until December 2023, Turku University Hospital demonstrates that they are committed to providing the highest quality of care to their patients. For patients it's an easy to recognize benchmark of safety and treatment quality when researching radiation therapy options for cancer treatment.
Learn more about Novalis Certified.