Benefits of Neo-Adjuvant SRS Versus En Bloc Resection
Anthony Asher, MD, from the Neuroscience Institute, Atrium Health Care System, Charlotte, US, discusses evolving paradigms in the management of cerebral metastases and how that relates to defining the role of surgical therapies in combination with other treatment modalities. He begins by outlining the societal impact of cerebral metastases and the current therapies offered, including radiation therapies (Whole brain radiation therapy (WBRT), stereotactic radiosurgery (SRS)), surgery and targeted therapies and immunotherapy. Dr. Asher explores in depth the forms of adjuvant radiotherapy: WBRT and preoperative as well as postoperative radiosurgery. He then discusses in more detail neo-adjuvant radiosurgery using case examples.
About the speaker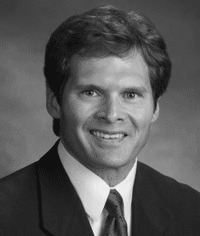 Anthony Asher, MD
Carolina Neurosurgery & Spine Associates Charlotte, USA
Director at Atrium Healthcare System Neuroscience Institute and Neurosurgery Residency Program Director at Carolinas Medical Center.
He is also Clinical Professor in Neurosurgery at the University of North Carolina and Vanderbilt University.
He is Past-President, Congress of Neurological Surgeons and is a former Director of the American Board of Neurological Surgery.
Dr. Asher serves as Director, National Quality and Outcomes Database and is Vice Chairman, National Neurosurgery Quality Council.
He is Chairman, Privacy and Research Task Force of the AMA National Quality Registry Network Council (NQRN), and is a member of the NQRN Steering Committee.
He is a past member of the National Quality Forum Surgery Standing Committee, past Chairman of the Brain Organ Site Group of the American College of Surgeons Oncology Group, and has served as an advisor to the HHS Secretary's Advisory Committee on Human Research Protections.
Dr. Asher is a Fellow of the American College of Surgeons and has been elected to the American Academy of Neurological Surgery and Society of Neurological Surgeons.
More clinical talks from this speaker
Video Transcript
I really appreciate the opportunity to present our work here today. And Doug had mentioned that I would be addressing some of the old rules, and that's true. I think it's important to say that, for the foreseeable future, surgery has grouped into the old roles category, I think is going to be part of our armamentarium when we're looking at taking care of these patients. And I think like any technical procedure, the degree to which any surgeon or individual center will take advantage of this set of techniques will be dependent on how effectively they can do it...
Interested in watching this clinical talk? Please click on the button "WATCH Video" to enter your contact details and to have access to two additional videos from the member-only Novalis Circle. Your contact information will only be used to contact you about Novalis Video related updates.
WATCH Video
Keep Watching
Thank you for watching! Please enter your contact details below to continue watching and to have access to two additional videos from the member-only Novalis Circle. Your contact information will only be used to contact you about Novalis Circle video related updates.
Watch video
No Thanks
---
Already Novalis Circle Member?
Member Login
Register now
Thank you for your interest in our Novalis Circle videos. Full-access to the media library is currently available for Novalis Radiosurgery users only. If you are a customer, please register or login to continue.