Starting a Radiosurgery Program and Benefits of Modern Software Tools
Filippo Alongi, MD, Head of Radiation Oncology at Ospedale Sacro Cuore-Don Calabria Cancer Care Center in Negrar-Verona, Italy, discusses beginning a radiosurgical program and the benefits of modern software tools. He begins by mentioning that the role of stereotactic radiosurgery (SRS) and stereotactic body radiation therapy (SBRT) are emerging, especially in the area of spine metastases. He then discusses the use of Brainlab Elements Spine SRS software tools, including automatic segmentation, deformable registration of PET and/or MRI and simulation CT, as well as planning with sharp dose gradients. He then uses case examples to outline their experiences with the software at his facility.
About the speaker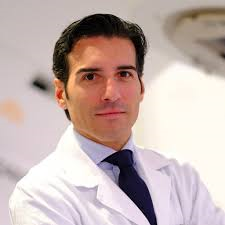 Filippo Alongi, MD
Ospedale Sacro Cuore-Don Calabria, Negrar, Italy
Head of Radiation Oncology Department at Sacro Cuore Don Calabria Cancer Care Center of Negrar in Verona, Italy.
Associate Professor at University of Brescia, Italy.
Previously, he was:
Clinical researcher at the National Research Council (CNR Institute of Bioimaging and Molecular Physiology) where he conducted experimental studies on high technologies in the field of oncology (IORT, IMRT, MRgFUS).
Vice Director of the radiotherapy and radiosurgery department of the Humanitas Institute in Milan.
He conducted several studies as "principal investigator" or co-investigator "published in various journals (Radiotherapy and Oncology, International Journal of Radiation Oncology Biology Physics, Radiation Oncology, Acta Oncology, etc).
For the Italian Association of Radiotherapy Oncology (AIRO), he had various positions including the role of national coordinator of the under 40 group and national secretary of the prostate group.
He is currently a member of the executive board and of the national scientific committee of AIRO. He is also the national coordinator of the uro-oncological group of the same association.
Prof. Alongi is the author of several book chapters(4), more than 200 scientific articles on radiotherapy and oncology (clinical studies, reviews, editorials on pubmed).He has been lecturer at more than 150 meetings and university courses, in Italy, Europe and other countries, including US. He presented several scientific communications as a speaker at national and international congresses / symposia. He is part of the "editorial board" of several journals in oncology and radiotherapy (Radiation Oncology, Technology in Cancer Research and Treatment, Tumori Journal) and is a reviewer for the EORTC, the European Organization of Research and Treatment of Cancer.
To consult the publications produced by Dr. Alongi click here:
www.ncbi.nlm.nih.gov/pubmed/?term=filippo+alongi
————————————–
Filippo Alongi
Professore Associato e Direttore, Unità Operativa Complessa di Radioterapia Oncologica,
IRCCS Ospedale Sacro Cuore-Don Calabria,
Cancer Care Center Negrar(Verona), Italy
Tel 0456014800,
Fax0456014801
Web: www.sacrocuoredoncalabria.it/Servizi-di-diagnosi-e-cura/Radioterapia-Oncologica/Presentazione/
More clinical talks from this speaker
Related Videos
---

---

---

Intensity-Modulated Stereotactic Radiotherapy for Intramedullary Cervical Spinal Metastases: Report of 2 Cases

---

---

---

---

---
Interested in watching this clinical talk? Please click on the button "WATCH Video" to enter your contact details and to have access to two additional videos from the member-only Novalis Circle. Your contact information will only be used to contact you about Novalis Video related updates.
WATCH Video
Keep Watching
Thank you for watching! Please enter your contact details below to continue watching and to have access to two additional videos from the member-only Novalis Circle. Your contact information will only be used to contact you about Novalis Circle video related updates.
Watch video
No Thanks
---
Already Novalis Circle Member?
Member Login
Register now
Thank you for your interest in our Novalis Circle videos. Full-access to the media library is currently available for Novalis Radiosurgery users only. If you are a customer, please register or login to continue.