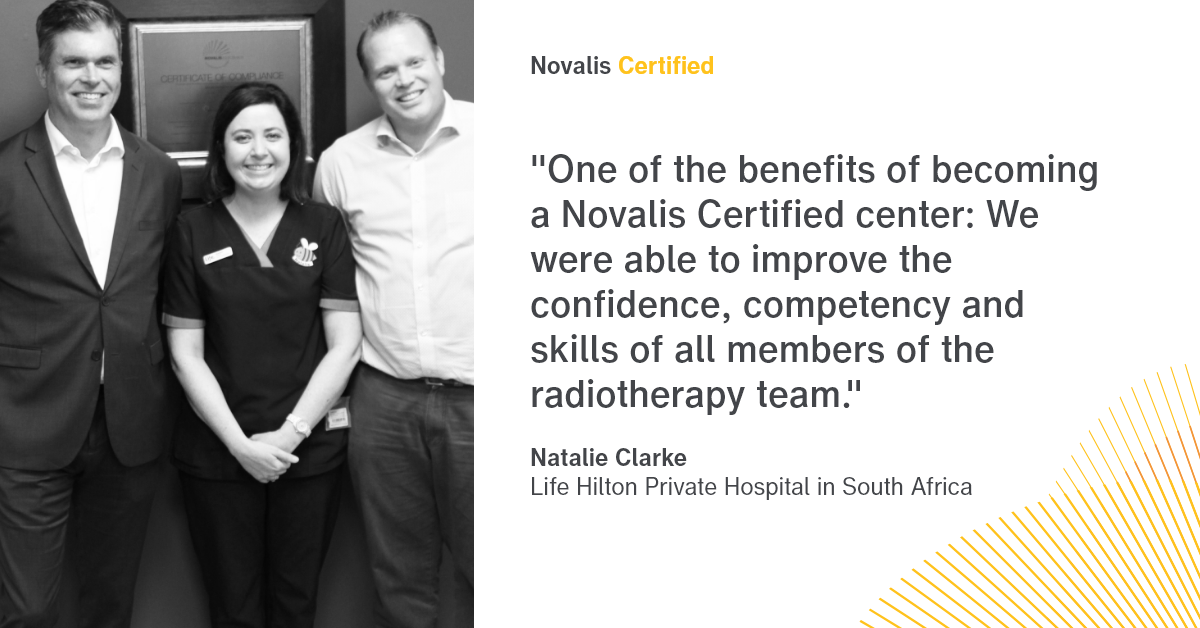 Congratulations to Life Hilton Private Hospital !
Congratulations to Natalie Clarke, Radiotherapy Unit Manager at Life Healthcare, Life Hilton Private Hospital in South Africa, and her team for successfully becoming Novalis Certified!
According to Ms. Clarke, medical institutions should consider becoming Novalis Certified because: "Certification ensures that your unit is benchmarked against other international centers. It also provides the radiotherapy team with tools to grow in confidence to successfully deliver these highly technical treatments safely."
See below for more of Ms. Clarke and her team's top takeaways from the Novalis Certification process.
Interested in standardizing your organization's SRS & SBRT procedures? Click here to find out how: https://lnkd.in/g7xJHSt
#RadOnc #Radiotherapy #Oncology #Radiosurgery Life Healthcare @James L. Robar
---
𝐖𝐡𝐚𝐭 𝐦𝐨𝐭𝐢𝐯𝐚𝐭𝐞𝐝 𝐲𝐨𝐮 𝐚𝐧𝐝 𝐭𝐡𝐞 𝐭𝐞𝐚𝐦 𝐚𝐭 𝐋𝐢𝐟𝐞 𝐇𝐢𝐥𝐭𝐨𝐧 𝐏𝐫𝐢𝐯𝐚𝐭𝐞 𝐇𝐨𝐬𝐩𝐢𝐭𝐚𝐥 𝐭𝐨 𝐠𝐨 𝐭𝐡𝐫𝐨𝐮𝐠𝐡 𝐭𝐡𝐞 𝐍𝐨𝐯𝐚𝐥𝐢𝐬 𝐜𝐞𝐫𝐭𝐢𝐟𝐢𝐜𝐚𝐭𝐢𝐨𝐧 𝐩𝐫𝐨𝐜𝐞𝐬𝐬?
"The safe delivery of stereotactic radiosurgery treatment demands exceptional precision and accuracy as the consequences of a single radiation error can be enormous. This, therefore, requires a focus on processes, equipment and delivery of care. The aim of becoming certified was to ensure that the utmost confidence was instilled in all radiotherapy team members to plan and safely deliver SRS and SBRT through improving skill competency, developing and standardizing protocols and workflows, and the overall improvement of effectiveness. We also wanted to create an awareness in our community around the importance of safe, accurate delivery of SRS/SBRT."
𝐖𝐡𝐚𝐭 𝐡𝐚𝐬 𝐲𝐨𝐮𝐫 𝐞𝐱𝐩𝐞𝐫𝐢𝐞𝐧𝐜𝐞 𝐛𝐞𝐞𝐧 𝐰𝐢𝐭𝐡 𝐭𝐡𝐞 𝐍𝐨𝐯𝐚𝐥𝐢𝐬 𝐂𝐞𝐫𝐭𝐢𝐟𝐢𝐜𝐚𝐭𝐢𝐨𝐧 𝐩𝐫𝐨𝐠𝐫𝐚𝐦?
"It's been the most incredible learning process for our team. We have loved every minute of working with our auditor, Professor James Robar. He has patiently guided us through the process, always giving us valuable feedback and helped motivate us to eventually cross the finish line."
𝐈𝐧 𝐲𝐨𝐮𝐫 𝐨𝐩𝐢𝐧𝐢𝐨𝐧, 𝐰𝐡𝐚𝐭 𝐚𝐫𝐞 𝐭𝐡𝐞 𝐭𝐨𝐩 𝐭𝐡𝐫𝐞𝐞 𝐛𝐞𝐧𝐞𝐟𝐢𝐭𝐬 𝐨𝐟 𝐛𝐞𝐜𝐨𝐦𝐢𝐧𝐠 𝐚 𝐍𝐨𝐯𝐚𝐥𝐢𝐬 𝐂𝐞𝐫𝐭𝐢𝐟𝐢𝐞𝐝 𝐜𝐞𝐧𝐭𝐞𝐫?
1. Standardization of all procedures, protocols and processes to ensure a safety culture within the units
2. Improve the confidence, competency and skills of all members of the radiotherapy team
3. Benchmark your institution's current practice to other international centers